By Lauren Young, photos by Katherin Frankovic. Originally

published

(

download PDF

)

in the February 2021 issue of

DuPageReal Producers

.
---
"Kathy and I lift each other up. We share insights and perspectives when we have a bad day," says REALTOR® Brian Quaid, of his wife and teammate, Kathy Quaid. "Marriage is hard work under 'normal' circumstances. Throw a real estate negotiation in the mix and you really have some fun stuff!"
"We have always thought of each other as best friends," he adds. "So it's great to be able to work with your best friend every day."
Before joining forces as REALTORS®, both Kathy and Brian took indirect paths to careers in real estate. Kathy is from Wheaton and attended Indiana University. Brian is from Elmhurst and attended Northern Illinois University. The two met through a mutual friend while Kathy was working at the Chicago Board Options Exchange and Brian was a plumbing manufacturers rep. They clicked immediately and ended up dating for four years before getting married.
While each worked in sales, Kathy held a side interest in real estate and would attend area open houses every Sunday with daughter Abby. They would go so often that Abby started quizzing the REALTORS® about home tax rates.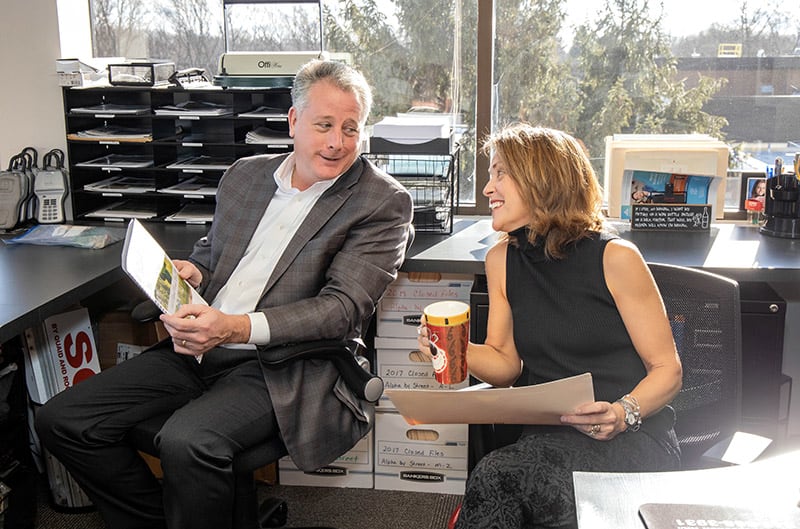 "One day Brian told me that if I was going to spend so much time looking at houses, then why not just become a REALTOR®," remembers Kathy. "As I
thought more about it, it just made sense. I had been in sales since after college and figured it was just another product to sell."
Kathy was licensed in 2004 and has developed her weekend hobby into a successful passion. Since starting at Prudential Spengel, she's now leading a growing team at Keller Williams Premiere Properties in Glen Ellyn.
"I love the variety of houses and that every day on the job is different," says Kathy. "We deal with emotions, strategy, negotiations, and act as consultants and often project managers. It gives me a lot of satisfaction to be able to work with home buyers and sellers."
Kathy joined forces with Maureen Rooney in 2010, having both been successful individually. Each was licensed in 2004, named Rookies of the Year at their respective brokerages, and share a similar work ethic and drive. They quickly became the top team in the area and found themselves needing to add members.
"That's when Brian entered the picture," explains Kathy. "I had been asking him to get licensed since 2004, and he always looked at me like I was crazy. But then things started changing in his industry. I told him that we were going to bring on a buyer's agent, and we thought he'd be a great fit."
"We have many times found ourselves laughing and crying with our clients in the same meeting. Our job is to guide our clients through the real estate process with the least amount of stress possible."
Brian earned his license in 2012 and filled the team's open role. Looking back, Brian now wishes he had been licensed when Kathy first asked him. He loves what he does and works well with clients.
Their natural connection and personal service has not gone unnoticed. The Quaid and Rooney team has ranked #1 in volume and listings sold from 2013-2020. They have been ranked in the Top Ten of all DuPage County REALTORS® 2013-present. They have been in The Wall Street Journal Top 1,000 from 2017-2020, and have ranked nationally in the top 1%. Kathy was also a featured real estate expert on HGTV's show "Designed to Sell."
They claim that working together as family has helped them perform at a higher level than they ever could have alone. In fact, more Quaids and Rooneys have joined the team.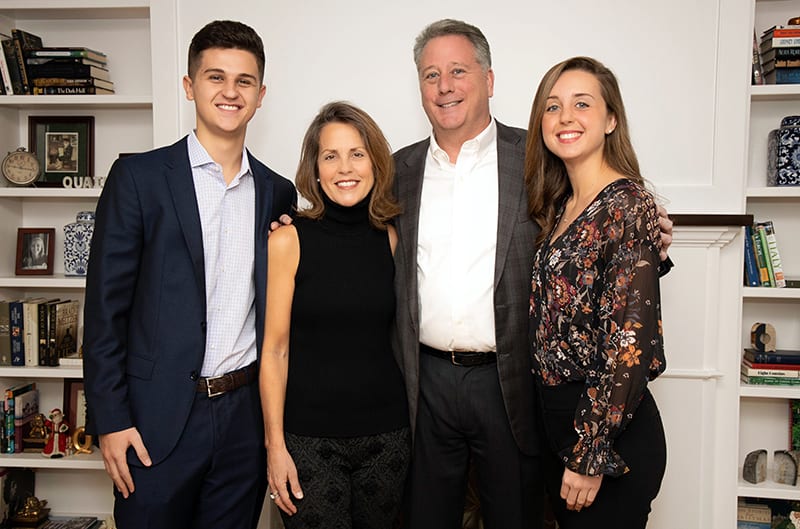 "Our team is a family within a family," says Kathy. "Both Maureen and I have family members on the team, and we think it's fantastic. Children of REALTORS® either love the business or hate it, because it's a constant topic of discussion. While our daughter, Abby, became a senior analyst at Nielsen, our son, Mack, is now a broker working with us."
When Kathy and Brian are not managing their real estate business they enjoy traveling. They recently visited Mexico and Colorado right before the recent quarantines. Thanks to their son Mack, Kathy and Brian are also landowners in Scotland allowing them to have the titles Lord and Lady. Their son actually bought it for them as a funny gift so they could have the titles. Brian especially enjoys listening to music while Kathy enjoys spending time outdoors and gardening.
Marriage is hard work under 'normal' circumstances. Throw a real estate negotiation in the mix and you really have some fun stuff!
The Quaids are supporters of causes like Glen Ellyn Food Pantry, Alzheimer's Association, and This Run's for Jack Melanoma Foundation. Each one because of personal ties. "This Run's for Jack was founded by our friend, Sharon Marston, whose husband passed away from melanoma," says Kathy. "She works very hard to get information to young people about the importance of sunscreen and taking care of your skin."
"My mother passed away from Alzheimer's in the summer of 2016. It is such a horrible disease," she says. "Our family started the 'Crawl to End Alz,' a pub crawl to raise money and awareness for the cause."
"And we assist with the Food Pantry, because you don't realize there are people right in your backyard that need help," she explains. "It is such an easy thing to do to give a little time and resources to make life better for those around you."
As they look forward to the future of real estate, they reflect on all the homeowners they've been able to impact this year. Many have lost jobs, moved away, upsized, downsized, bought second homes, and even purchased investment properties. Even with such diverse clients, they approach them all with the same customer-first focus.
"Everyone on the Quaid and Rooney team treats clients as if they were part of the family," says Kathy. "Many of our clients are buying a home and are thrilled. But some are moving out of a house that they have lived in for 40 years or a home they grew up in. There are so many emotions to deal with in a single day."
"We have found that oftentimes people just need to talk things through and look to us for guidance," she adds. "We have many times found ourselves laughing and crying with our clients in the same meeting. Our job is to guide our clients through the real estate process with the least amount of stress possible. I think we agree that that is our favorite part of this career we have chosen."